The Mooch is OUT.
Ten days after being appointed as Pres. Donald Trump's new White House communications director, hedge-fund gangster Anthony Scaramucci has been fired, allegedly by Trump's new Chief of Staff (of ONE day) John Kelly. This upset follows The Mooch's outrageously obscene outburst to a reporter.
But this mofo wasn't just FIRED. He was escorted off the job like the common criminal he is, and "walked from the White House complex and beyond its security perimeter."
Anthony Scaramucci was escorted from White House grounds today after ouster, per source familiar with the scene

— Jackie Alemany (@JaxAlemany) July 31, 2017
From CNN White House correspondent Jeff Zeleny, speaking with CNN's Brooke Baldwin:
"We are told by our producers, our team, that he was escorted off. That's not necessarily unusual. If someone is no longer working here, he has no reason to be here. We are told he was escorted off the property earlier this afternoon," Zeleny relayed. "The question is what happens next?"
Kelly apparently disapproved of Scaramucci's "lack of discipline."
Furthermore, we've found this little video. Apparently Scaramucci had a "tense exchange" with Kelly, with The Mooch saying "I don't have to report to you."
Even right wing bloggers are cheering The Mooch's downfall. This from Red State:
You sow humiliation and turmoil, then humiliation and turmoil you should reap.
How does it feel, Mooch?
For his part, Pres. Trump tweeted early this evening that it's a good day at the White House. Yeah, he really fucking did. Like we don't all see the news.
A great day at the White House!

— Donald J. Trump (@realDonaldTrump) July 31, 2017
We simply LOVE how The Independent's authors Andrew Bunchombe and David Usborne phrased it, so being the little delicious shit rag we are, we'll just let their eloquence speak rather than try to do better:
The unceremonious removal of Mr Scaramucci from 1600 Pennsylvania Avenue was a moment of exquisite humiliation that came in the wake of an astonishing display of hubris from a man who was brought into the White House to shake up its communications operations even though he arrived with zero experience in federal government.
[…]
He in particular conjured an especially vulgar and insulting image with respect to Mr Bannon. His tirade drew strong rebukes from several senior Republican figures on Capitol Hill.
His cock. Scaramucci gave us all the really ugly visual suggesting that Bannon sucks his own cock.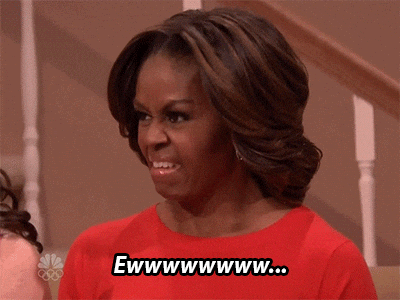 Yeah, thanks for that visual, Mooch, you disgusting bastard. You've ruined my life forever with that. I think this may qualify as PTSD.
Oh….and be sure to frame this as a souvenir of your almost-greatness, Mooch.
It will never get old. I am humbled and blessed to be here. @POTUS pic.twitter.com/vCWM8b7ymy

— Anthony Scaramucci (@Scaramucci) July 24, 2017
CNN has reported that Scaramucci will be returning to his job at the Export-Import Bank.